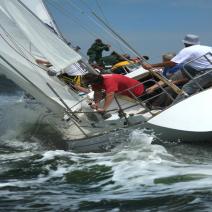 Sailing Travel Insurance with Insure4less
Australians are always on the search for new and exciting experiences, especially when it comes to boating outside of Australian waters.
Unfortunately, most generic travel insurance policies are not specialised enough to cover these sailing trips and even sailing travel insurance policies usually suspend your cover the moment you leave Australian waters.
That's why Insure4less has worked with sailing specialists to create "Offshore" - travel insurance option that covers:
Ocean sailing

Sailing in international waters

Amateur competitive sailing (both offshore or onshore)
So, whether you're a cadet eager to make your first serious trip into the big blue beyond or an experienced sailor venturing out of Australian waters on a regular basis, Insure4less has the sailing travel insurance for you.
Why You Need Sailing Travel Insurance
Offshore has been carefully designed with the help of sailing experts to provide a cost effective and comprehensive sailing travel insurance policy.
So, if you are planning a round the world trip or just a steer over to New Zealand or the Pacific Islands, we are confident that Insure4less Offshore will become an essential piece of kit for you.
Anyone who wants to combine an exhilarating sailing trip with complete peace of mind while out on the water will be pleased to know that the Insure4less Offshore sailing travel insurance includes:
Cover outside of Australian territorial waters

Generous cover for lost or stolen belongings

Regular search and rescue cover with sea rescue cover increased to $10,000
This all comes on top of the standard Excel Plus travel insurance, a cheap travel insurance policy that features low excesses and competitive cover rates for:
Sickness or injury – sailing accidents do happen and can be quite expensive. Insure4less provides unlimited cover under the 'medical expenses' section of all our policies.
Cancellation

Lost or delayed luggage

Catastrophe cover

Personal liability

Travel delay

Missed departure or connection

Legal advice and expenses
To see all of the benefits of our Excel Plus travel insurance online, please see our Product Disclosure Statements.
Please note we are not in a position to provide cover for sailing within Australian waters or the Antarctic Peninsula, Offshore cover only applies to adults aged between 18 and 65 years, and the maximum duration we can provide cover for is 12 months.
In addition, we will request information about your offshore sailing experience, including certificates and qualifications.
Why Choose Insure4less?
At Insure4less we want your next offshore adventure to be smooth sailing. When you take out sailing travel insurance online with us you get:
Convenient approval processes:
Preparing for an international sailing trip already has enough leg work involved without having to worry about filing forms and travelling to insurer's offices. With Insure4less you can get Offshore travel insurance online by following three simple steps:
Answer a few simple questions online at least three business days before you leave Australia. Once we have the information we need, you'll get an email from us confirming whether we can insure you and the price of your sailing travel insurance.

Advise us of the certificate number on your existing Excel Plus travel insurance policy with us.

Pay your additional premium. Once payment is received, Insure4less will issue you with an endorsement to extend cover to include your planned sailing.
Flexibility:
Insure4less understands that when it comes to sailing adventures there's no way a one-size-fits-all policy can work.
Because we take the time to consider all of the factors involved in your trip, including the number of people you'll be sailing with, stop overs you'll make, the type of vessel you'll be sailing in and the destinations you'll visit, we're able to provide you with a tailored policy that meets all of your sailing travel insurance needs.
Online account support:
With Insure4less you can easily access and change the details of your travel insurance online 24 hours a day, 7 days a week.
When you insure with us, there's no need to waste money on expensive international phone calls when you want to change your cover, extend your policy, get a copy of your policy details or update your information.
Your Sailing Trip: Top Travel Tips
Whether you're a relative novice, or you're a regular seafarer it's always important to make your journey hassle-free and safe. Keep in mind these top tips to get the most out of your ocean adventure:
Obey marine laws
No matter where you are sailing it's important to follow carefully all marine laws including carrying all the required safety equipment aboard your vessel. It pays to research the marine laws of the areas you will be travelling to, as failure to comply with them may invalidate your insurance policy.
Sail in safe cruising areas
Keep safe and don't sail within, or in transit of, high threat waters. To find out which areas are deemed unsafe to sail, check the LMA Joint War Committee listed areas document at the time of transit (available at www.lmalloyds.com/lma/jointwar).
Sail with qualified people
Sailing is a very technical sport that requires extensive knowledge of equipment and experience navigating through a range of wind and weather conditions. Always sail with a crew of certified people who know what they are doing.
Check the existing cover for your vessel
If you are sailing for commercial purposes (that is you're getting paid/renumerated for work aboard the boat), you won't be covered under the Offshore policy unless you've made a prior agreement with the underwriters. In cases like this it's worth seeing if your employer has insurance that covers you.
Check your dates
Make sure that your standard Excel Plus travel insurance policy covers you from the date you leave your home in Australia right up until the date you arrive back home in Australia.
Contact Us Today!
To review all of the details about our Offshore sailing insurance, please see our Product Disclosure Statement. If you have any questions, check our Frequently Asked Questions or email us at travel@insure4less.com.au and we will get back to you within one business day.
To view our sailing endorsement, click here.