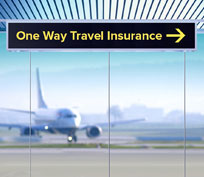 One Way Travel Insurance
Are you travelling back home after having lived in Australia for some time?
Have you booked a one way ticket overseas with no planned return date?
Are you an Aussie emigrating overseas or going on a gap year?
You will probably find it difficult to obtain high quality and cheap travel insurance online that will cover you in these situations. But at Insure4less, we have developed a one way travel insurance policy that allows you to travel one way from Australia without an expected return date or return ticket booked.
You get to decide where you want to be repatriated to in the event of a medical emergency or curtailment by nominating your final destination, and we'll even insure you beyond the arrival date in your final destination if you wish. For many people it is sometimes impossible to get health cover in a new country of residence until after you have been there a few months, but our one way travel insurance policies make it easy for you to secure the cover you need.
This type of travel insurance is also ideal if you are taking some time travelling to different countries before settling in to your final location. It gives you the freedom to see the world on your own terms, while being financially protected the whole way through.
To get a quote, please use our quick quote form on this page.
The Advantages of One Way Travel Insurance
At Insure4less we provide affordable travel insurance options designed to suit a variety of different travellers. Our one way travel insurance is ideal for a unique type of Australian traveller, and offers a number of fantastic advantages:
It suits many different one way travel situations: Whether you're moving overseas or you simply just haven't planned on when you'll be returning home, you will greatly benefit from the extra level of confidence and peace of mind that quality travel insurance will bring.

You can decide how long you'll be covered for, up to a year in total, and where your final destination will be, which will be used as the destination for medical repatriation or curtailment if it's required.
You'll be covered for everything a standard travel insurance policy would cover you for: Your one way travel insurance will cover you for everything you'd expect, plus much more! You'll be covered in the event of an overseas medical emergency, travel delays, lost or stolen luggage, cancellation fees and lost deposits, personal liability and much more.

You can find more information about the range of situations you'll be covered for further below.
You don't have to come home to make a claim: If something happens while you're travelling and you need to make a claim, you can do it from wherever you are in the world with no need to return home first.

We are also proud to deliver a 10 day claim payment guarantee for all valid claims, so you'll have your money even sooner.
One way travel insurance from Insure4less gives you the financial security you need to travel without a worry. Get your obligation free quote for an affordable travel insurance policy today, so you can make the most of your overseas adventure!
What You'll be Covered For
Just because you're only making one trip, doesn't mean your cover should be any less comprehensive. We are proud to deliver affordable travel insurance policies for your one way trip, designed to protect you financially in a wide range of unexpected situations.
You'll be covered for:
Overseas medical expenses: If you're injured or taken ill during your trip, you can rest in the knowledge that all necessary costs will be taken care of. This includes treatment and transportation costs, additional travel and accommodation expenses for both you and an additional relative or friend, and repatriation to your nominated country.
Baggage and personal effects: You'll be covered for loss, theft or damage to your personal belongings, baggage and valuables up to the limit you choose.
Personal money and travel tickets: We'll cover you if your personal money, travel tickets, Passport and/or Visas are lost or stolen. This includes the cost of obtaining emergency replacements and any travelling or accommodation expenses required to secure them.
Travel delays: We've got you covered if you've booked public transport and it's delayed by 12 hours or more, you'll receive financial compensation.
Missed departures and connections: If you miss a booked departure or connection because of a range of circumstances outside of your control, we'll cover you for any additional accommodation and travel expenses to help you reach your destination.
Cancellation fees and lost deposits: You'll be covered for the costs of cancelling or cutting short your trip because of illness, injury, pregnancy, redundancy, death, jury service or witness call.
Catastrophes and terrorism: Your safety is our top priority and your one way travel insurance policy will cover you for situations like natural disasters, epidemics & pandemics (overseas medical expenses only) and terrorist acts.
Personal liability: We'll pay any necessary expenses if you're held legally liable for causing accidental bodily injury or accidental loss or damage to someone else's property, while you're overseas.
And much more: Our cheap travel insurance policies will also cover you for a range of other situations that can happen while you're travelling, including legal advice and expenses, abandonment of trip, car rental excess, search and rescue expenses, travel carrier insolvency, accidental death and permanent disablement, hospital cash allowance and more.
Please visit our summary of cover for a full summary of what's covered under your policy and the maximum amounts payable for each area of cover.
If you have any general enquiries about our cover options or the policies we offer, please email us at travel@insure4less.com.au and one of our travel insurance specialists will get back to you within one business day.
Important Points to Keep in Mind
Taking out one way travel insurance online with Insure4less gives you the freedom to enjoy your travels without a definite plan, while still getting the protection and security you deserve while you're away.
Here are the most important elements and definitions relating to your policy that you should make sure you're aware of:
If you are travelling one way, make sure you select this option when applying for cover or your policy may be invalid. One way travel is defined as any trip which has no expected date of return to Australia, or there is no return ticket booked.
Your cover will cease on the expiry date you nominate. You can choose to be covered for a longer period if you wish, and all of our one way travel insurance policies can be extended from overseas for your convenience, up to a maximum of a year.
With a standard travel insurance policy, if you need to cancel or cut short your trip for any reason then your return ticket would be used to get you home. But with a one way policy, if you don't have a return ticket booked and you need to be repatriated, you will be required to contribute the cost of a one way ticket to your nominated final destination.
Extend and Amend Your Policy from Overseas
We know how plans can change while you're travelling, which is why we make it as easy as possible to alter your travel insurance online from wherever you are in the world to make sure your cover always aligns with your plans.
So if you need to make a change to your one way travel insurance policy such as extend your policy to cover you for longer, upgrade your level of cover, change names or contact details, or download a copy of your policy, you can do it all from your online account. Just sign in here!
You can access your account instantly, 24 hours a day and 7 days a week, from anywhere in the world. And if you have any questions or queries about making changes to your policy, we're always available to help you out.
Get Affordable Travel Insurance Online Today
Make the most of your overseas adventure with a flexible and cheap travel insurance policy from Insure4less, to make sure you're protected no matter where you go! Our diverse range of policies gives you the freedom to tailor your cover to suit your travel plans and budget, to ensure that no matter where you're going and how long you're going for, you'll have the financial security you need to relax and enjoy your travels.
Get a competitive quote for one way travel insurance online today, so you can get out and see the world sooner.
To ensure you have all the information you need, read through our Product Disclosure Statement.
Please note, we cannot insure you if you are planning to stay in the USA for 364 days or more.